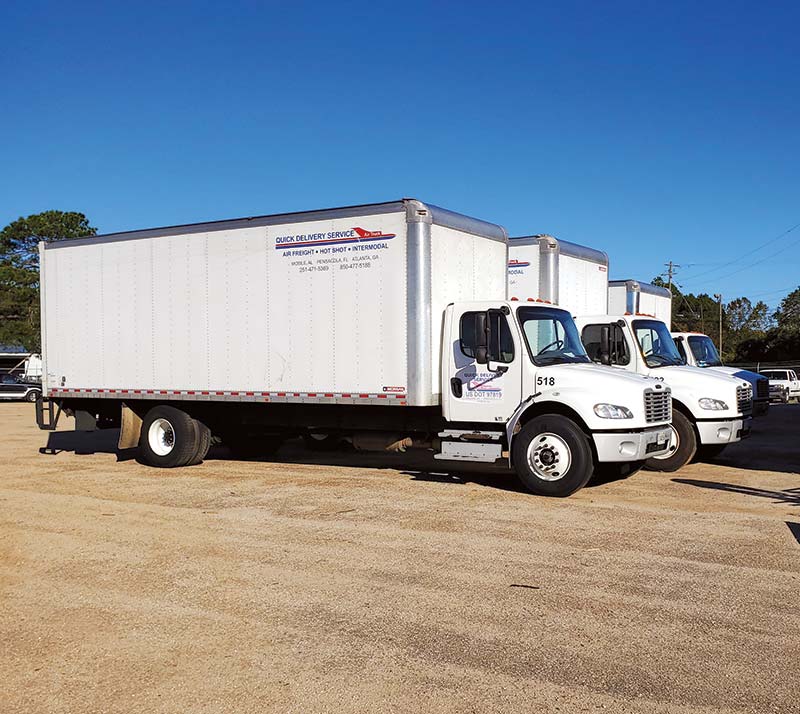 At Quick Delivery Service, we pride ourselves on being a logistics partner who offers best-in-class service, adapting to the unique needs and requirements of each individual client. Whether your delivery requires a flatbed trailer, container shipment, van or specialized services, our team has more than 60 years of experience to meet your needs.
Robust 24-hour GPS and EDI tracking, as well as terminals in Mobile, Alabama, Pensacola, Florida and Atlanta, Georgia, make Quick Delivery Service the ideal partner to keep your business on the move. Our commitment to service means you'll receive a personal call to schedule your delivery, however you can also book, manage and track your deliveries in real-time online.
Our drivers are TSA certified and arrive uniformed and in branded vehicles. Service is available 24 hours a day, seven days a week, 365 days a year. Hazmat drivers are also available.
In addition to local pickup and delivery, hot shot equipment, intermodal transportation and Atlanta truck loads EUV, Quick Delivery Service also offers specialized services. These services are customizable per your needs and can include oversize air shipments, expedited inbound and outbound shipments through 48 states and Canada, rush shipments for plant outages and maintenance, oversized shipments and expedited LTL shipments.
We offer a wide variety of pickup and delivery options in the Mobile, Alabama and Pensacola, Florida areas. Daily routes mean you can select next-day or even same-day delivery, ensuring timely service with each shipment.
Quick Delivery Service is bonded and insured, and we only use TSA-certified drivers. Our Mobile and Pensacola local pickup and delivery services include airport recovery (ACI Zone), air freight, residential delivery, liftgate service and our state-of-the-art, web-based tracking and notification system. All drivers are uniformed and arrive in Quick Delivery Service-branded vehicles for security and your peace of mind as we transport your cargo.
Quick Delivery Service has been the agent for Forward Air in Mobile and Pensacola for more than 20 years. Shipments made through Forward Air come directly to our dock, which expedites deliveries and pickups. We can ship out same day when receiving Forward Air deliveries.
When you require a customized solution, our model goes beyond those of a standard trucking company. Whether you need warehousing or white-glove delivery, Quick Delivery Service's experienced team doesn't just deliver your shipment. We deliver it with best-in-class service.
Airport Drop
Hazardous Materials
Military Base
Pictures Required
Packaging and Crating
Oversized Freight
Unpacking, Debris Removal, Disposal
Asset Recovery
Inquire for a complete list of specialized services
Quick Delivery Service's Hot Shot equipment can transport 1 pound or up to 44,000 pounds in one truck. If your delivery requires a one-ton pickup, flatbed tractor or gooseneck, you're covered with our expansive lot of options. We know Hot Shot freight services can be needed at a moment's notice, and we're on standby to provide same-day and next-day delivery.
| | | |
| --- | --- | --- |
| Pickup | 8' X 4' | 1,000 lbs |
| 3/4 Van | 8' X 4' X 3' | 2,000 lbs |
| 1 Ton Pickup | 8' X 4' | 4,000 lbs |
| 1 Ton Flat | 10' X 8' | 5,000 lbs |
| Mini Float / Gooseneck | 24' X 8' | 8,000 lbs |
| Mini Float / Gooseneck | 30' X 8' | 10,000 lbs |
| Straight Truck with Lift Gate | 26' X 8' X 8' | 12,000 lbs |
| Mini Float / Gooseneck | 40' X 8' | 15,000 lbs |
| Van Tractor | 53' X 8'5" X 9' | 43,500 lbs |
| Flatbed Tractor | 53' X 8' | 48,000 lbs |
*Liftgate available
*Dimensions are listed in feet
*Weights are maximums
*Equipment subject to availability
*Equipment dimensions vary slightly
*Capable of handling permitted loads
From rail, air, ship and truck, Quick Delivery Service is well equipped to handle all your intermodal transportation needs throughout the southeast, including Mobile, Pensacola, Atlanta and more. As an agent for more than 200 top-of-the-line freight forwarders, our terminals handle thousands of intermodal transactions each year with 24/7 interchanges with all major railroads and steamship lines.
Rest assured when you utilize our intermodal services, you're getting the best of dependability and efficiency. Quick Delivery Service is fully insured and employs professional, TSA-certified CDL and TWIC drivers. Our intermodal services include service in and out of the Port of Mobile, transportation of 20- and 40-foot containers, flat racks, trans loading, pre-pull services, and storage yard.
Service Ports
Mobile, Alabama
Pensacola, Florida
Panama City, Florida
Gulfport, Mississippi
Atlanta, Georgia
Savannah, Georgia
States Served
Alabama
Florida
Georgia
Louisiana
Mississippi
Quick Delivery Service is an agent for more than 200 freight forwarders in the U.S. and has been in operation since 1958. At our Atlanta location, we focus on providing truckload/Exclusive Use Vehicle (EUV) services in and around Hartsfield-Jackson Atlanta International Airport to the freight-forwarding community. This service is also used by air freight trucking companies as a backup to their system to move expedited air shipments 24/7.